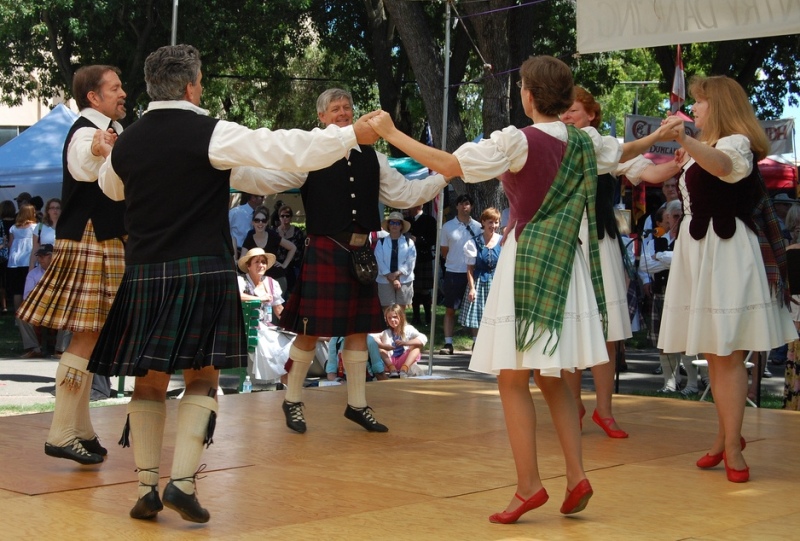 Many visitors to Scotland look forward to savouring a 'taste of the country'. Food and drink like atholl brose, cranachan, the many fine malt whiskies or even Scotland's 'other national drink' might be consumed and the historic castles of Dunrobin, Stirling, Edinburgh and others will be sought out and explored. Glasgow's impressive Victorian architecture and the breathtaking scenery of glencoe and the islands will be much photographed and no doubt Scotland's changeable weather will be the subject of some comment!
There is one other activity which visitors to Scotland who wish to 'taste the country' should consider and that is the traditional evening of music, song and dance known as a cèilidh. Derived from an Old Irish word a cèilidh (kay'lee) was originally any social gathering the purpose of which was, apart from entertainment, to allow young people to meet potential marriage partners.
That original purpose, which served the gaelic-speaking communities of both Scotland and Ireland well for many centuries, has now been superseded by more modern activities but cèilidhs are still held as musical evenings or parties, especially in rural communities, whenever a celebration is called for – or to party just for the fun of it!
A cèilidh can be held just about anywhere – the village hall, a pub, a hotel or, in the more remote areas, a farmer's barn or as an informal occasion in someone's house (if you are lucky enough to be invited to the latter event then you will find it a memorable occasion and a true 'taste of Scotland').
The bigger, organised cèilidhs generally feature a whole host of traditional folk music and songs (often in gaelic) performed by professional cèilidh bands playing traditional instruments like the fiddle, the flute, the accordion and, of course, the bagpipes and dances like the 'Gay Gordons', the 'Dashing White Sergeant', the 'Eightsome Reel' and the 'Canadian Barn Dance' will be performed at most cèilidhs.
Because of the remoteness of some communities informal cèilidhs are more common on the west coast and the islands especially as part of wedding or birthday celebrations. Cèilidhs are also organised as public events which anyone can attend and one of the best of these is held frequently in the west highland coastal town and ferry port of Oban.
If you are interested in seeing and taking part in a modern version of a traditional Scottish cèilidh then the live music venue 'The View' located on Oban's main waterfront road is well-worth a visit and since cèilidhs are family-friendly you can bring the youngsters. Don't forget your dancing shoes because once you hear that fiddle music you simply won't be able to stay in your seat.
You will be encouraged to take part in the dancing (it isn't compulsory but it's great fun!) but don't worry if you're not familiar with the steps since most cèilidhs have a 'prompter' or master of ceremonies to keep you on the right track and, with a little bit of practice, you'll soon be 'swinging your partner' with the best of them! Just like you can see here: