Coming to Edinburgh? No vacation trip to Scotland's capital city would be complete without a visit to the Royal Yacht Britannia, one of Scotland's most popular visitor attractions. Launched in 1953 Her Majesty's Yacht Britannia (her proper name) was a much-loved favourite of Her Majesty Queen Elizabeth II and the British royal family for over 40 years and during her lifetime was probably the most famous ship in the world.
In April 1954, carrying a young Prince Charles and Princess Anne, Britannia sailed on her maiden voyage from Portsmouth to Malta and thence to Tobruk in North Africa where Queen Elizabeth and her husband, Prince Philip, boarded her for the first of many voyages. Since then she has carried the Queen and members of the Royal Family on almost 1000 official voyages to virtually all of the worlds' seas and oceans.
From her launch to her decommissioning in 1997 she travelled more than a million nautical miles on the high seas and during her career she was the scene of many official receptions and state visits to countries all over the world. She played host to many VIPs and heads of state, including several Presidents of the United States of America. In her role as a floating ambassador for Great Britain she helped to generate many billions of pounds in trade deals and was also used by the royal family as a holiday cruise ship. In 1981 when Prince Charles married the then Lady Diana Spencer they spent their honeymoon aboard her.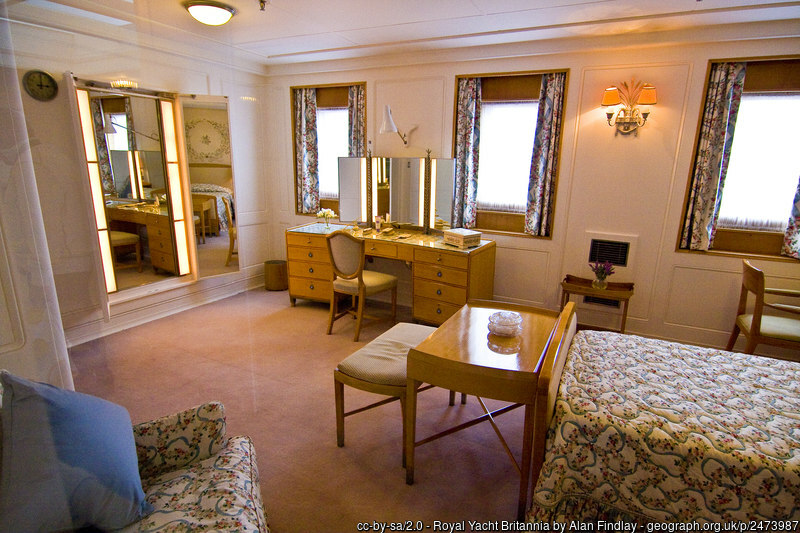 Built at the famous John Brown's Shipyard on the River Clyde in Scotland, this veritable floating palace is now an award-winning visitor attraction and events venue permanently berthed at Ocean Terminal, Leith, in Edinburgh. Receiving more than 300,000 visitors a year she is a fascinating glimpse into royal life and an important historical resource and museum piece.
On your visit you will be able to explore the bridge, the state apartments, the crew's quarters and the engine room. Highlights of the tour through the five decks include the sun lounge, the Queen's bedroom, the state dining room and drawing rooms, the Royal Marines' barracks and the sick bay.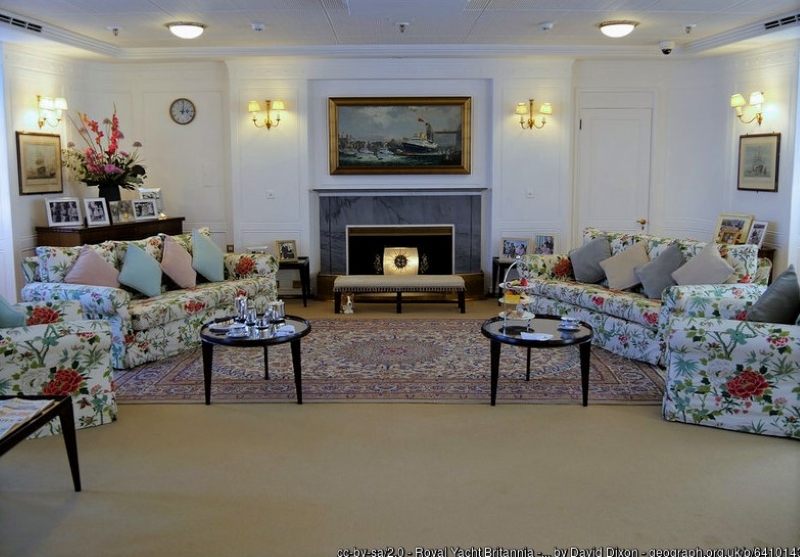 The majority of items on view are the originals (on loan from the Royal Collection and other contributors) including furniture, paintings and photographs from when Britannia was in royal service.
The route you will follow is fully accessible with lifts and ramps to aid your progress from one fascinating exhibit to another and there is no hurry to complete your visit. Tours are neither guided nor timed – you are free to go at your own pace and admire your glimpse into royal life at your leisure. An audio handset is provided to assist your tour. Allow at least two hours and another hour or so if you wish to visit the gift shop or the Royal Deck Tea Room (highly recommended)
A tour of Britannia is surely one of the highlights of any vacation to Scotland's capital city and shouldn't be missed. You are welcome to take as many photographs as you wish although the rule is 'look but don't touch!'. And until you can go there, check out this YouTube Video.