Scotland's largest city and the UK's third largest (once known as 'the second city of the empire'), Glasgow has many fine art galleries and museums but one of the most popular is undoubtedly Kelvingrove Art Gallery and Museum which houses one of Europe's great art collections. It is also one of the top three free-to-enter visitor attractions in Scotland and one of the most visited museums in the United Kingdom outside of London. It could be considered to be the Scottish Smithsonian.
First opened in 1901 and reopened by Her Majesty Queen Elizabeth II in July 2006 after a three-year closure for major renovations, Kelvingrove Art Gallery and Museum was an immediate success with the public with 2.23 million visitors to this impressive red sandstone building in the following year.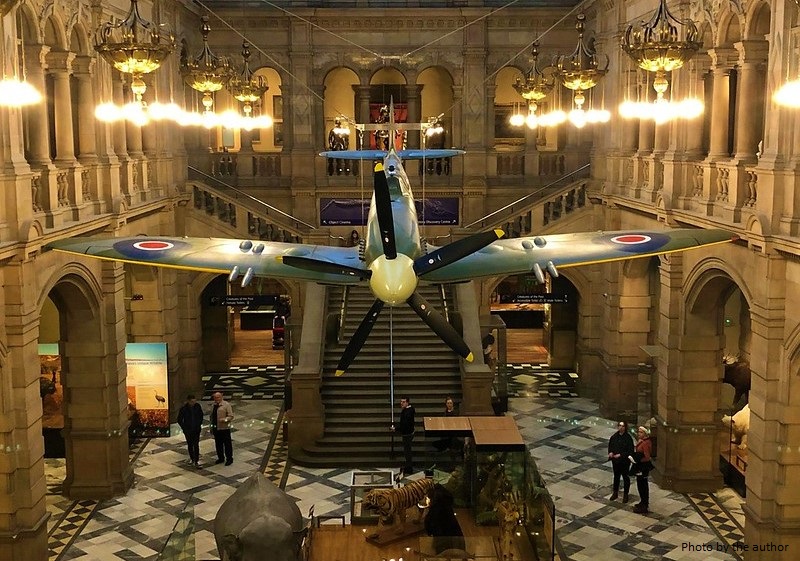 With everything from art to animals, in over 8000 exhibits in 22 state of the art galleries, its natural history displays, its cultural and historically important artefacts (Kelvingrove has one of the top three collections of arms and armour in the world) and its collections of art representing many different schools, Kelvingrove contains an impressive range of internationally significant displays.
The museum houses Dali's Christ of St John of the Cross and there are separate galleries devoted to Dutch artists including work by Rembrandt; French artistes with Monet, Renoir, Van Gogh and one of the few female impressionists Mary Cassatt. The Glasgow Boys and the Scottish Colourists have their own galleries and the Charles Rennie Mackintosh and Glasgow Style gallery includes many important works. There are also a number of temporary displays and exhibits which change over time so you never really know what you're going to see on your next visit.
The Kelvingrove Art Gallery and Museum also has its own beehive. Always a popular exhibit, the Kelvingrove beehive allows you to look deep inside the hive and see its structure in detail and watch the bees being, well, busy little bees!
There are persistent rumours that the museum is home to Scotland's only fossilised Haggis. That may simply be a folk myth but it's worth keeping your eyes open just in case it's lurking somewhere amongst the other exhibits. And don't just wander around a bit and look at the exhibits, take some time to examine the building itself. It's a magnificent edifice in its own right and well worth the reported £28m it cost for the renovations.
The proud possessor of a Gold Award from Visit Scotland's Green Tourism scheme Kelvingrove Art Gallery and Museum is located on Argyle Street, in Kelvingrove Park in the West End of the city near the main campus of the University of Glasgow. The park site also includes Kelvingrove Skatepark.
The museum is easy to get to and is fully accessible to the disabled – even to the extent of providing wheelchairs for visitors to use (subject to availability). There is a Glasgow museums gift shop, a restaurant and a cafe (feel free to bring your own sandwiches) and guide dogs are welcome. Admission is free (donations are appreciated).
PS: Don't forget to say 'hello' to Sir Roger as you pass through the West Court!
Check out the Kelvingrove Museum Website:
Watch A Video About The Kelvingrove