Connecting two largely disused waterways the Falkirk Wheel, the largest 'functional sculpture' you are likely to see anywhere, is the world's only rotating boat lift. Opened in May 2002 by Her Majesty Queen Elizabeth II as part of her Golden Jubilee celebrations the wheel connects the Union Canal with the Forth and Clyde Canal, both once used extensively for commercial purposes.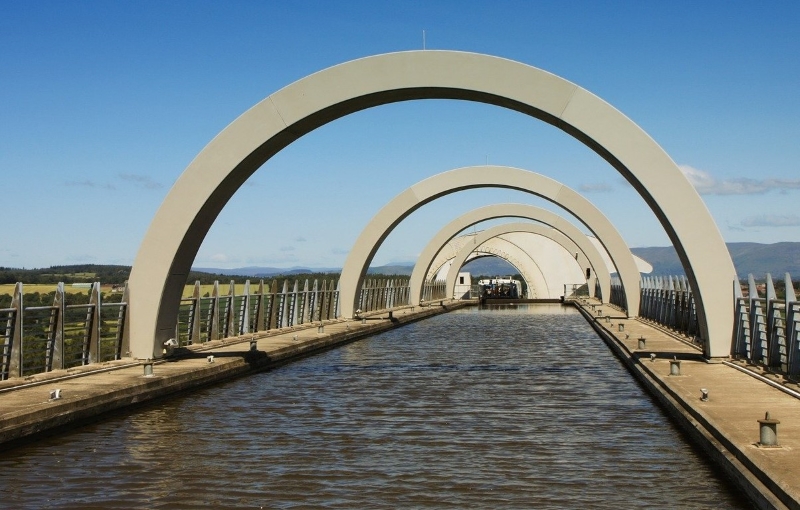 Situated pretty much half way between Glasgow and Edinburgh, and part of the Millennium Link project, this 35 metre (115 feet) diameter wheel lifts boats 24 metres (79 feet) from the lower canal up to a pair of locks leading on to the higher canal and re-establishes a link between Glasgow and Edinburgh which was severed in the 1930s due to disuse and industrial development.
You may wonder why was the Falkirk Wheel built? Not only was the wheel built to reconnect Scotland's two major cities, Glasgow and Edinburgh, with the much-valued leisure resource of a recreational waterway, it was also built to be a major tourist attraction and today the Falkirk Wheel is one of Scotland's busiest attractions boasting a state-of-the-art visitor centre with a Falkirk Wheel gift shop and café.
The visitor centre is free to enter and, over a coffee, you can simply sit and admire the effortless ease with which the Falkirk Wheel boat lift rotates the combined weight of water and boat (some 500 tonnes on each side) from one level to the other using no more electricity than it would take to boil a few kettles of water – which speaks volumes about the efficient design of the boat lift.
Whilst many visitors will be happy to merely watch this remarkable structure in action the real thrills come from trying it out for yourself. Departing from right in front of the visitor centre, and lasting about an hour for the full ascent and descent experience, boat trips on the Falkirk Wheel are very popular with some 400,000 people visiting the wheel every year and about 1.3 million visitors in total have taken a boat ride since the wheel opened.
If you are spending any amount of time in central Scotland this is one tourist attraction and impressive feat of engineering you really must visit. The site is fully accessible for visitors with mobility problems. It is wheelchair friendly and wheelchairs or mobility scooters can be taken on the boat trip. Designed to last 120 years the Falkirk Wheel will be ready and waiting for you when you decide to take your ride on the world's only rotating boat lift!
Check out the Falkirk Wheel Website:
Youtube Video showing the canal boat being lifted nearly 80 feet into the air to join the upper canal.
Except where otherwise credited, all photos are believed to be in the public domain, from Pixabay.com