Robert Burns

Robert Burns (25 January 1759 – 21 July 1796), also known familiarly as Rabbie Burns, was a Scottish poet and lyricist. He is widely regarded as the national poet of Scotland and is celebrated worldwide. He is the best known of the poets who have written in the Scots language, although much of his writing is in a "light Scots dialect" of English, accessible to an audience beyond Scotland. He also wrote in standard English, and in these writings his political or civil commentary is often at its bluntest.
He is regarded as a pioneer of the Romantic movement, and after his death he became a great source of inspiration to the founders of both liberalism and socialism, and a cultural icon in Scotland and among the Scottish diaspora around the world. Celebration of his life and work became almost a national charismatic cult during the 19th and 20th centuries, and his influence has long been strong on Scottish literature. In 2009 he was chosen as the greatest Scot by the Scottish public in a vote run by Scottish television channel STV.
As well as making original compositions, Burns also collected folk songs from across Scotland, often revising or adapting them. His poem (and song) "Auld Lang Syne" is often sung at Hogmanay (the last day of the year), and "Scots Wha Hae" served for a long time as an unofficial national anthem of the country. Other poems and songs of Burns that remain well known across the world today include "A Red, Red Rose", "A Man's a Man for A' That", "To a Louse", "To a Mouse", "The Battle of Sherramuir", "Tam o' Shanter" and "Ae Fond Kiss".
Burns was born two miles (3 km) south of Ayr, in Alloway, the eldest of the seven children of William Burnes (1721-1784), a self-educated tenant farmer from Dunnottar in the Mearns, and Agnes Broun (1732-1820), the daughter of a Kirkoswald tenant farmer.
He was born in a house built by his father (now the Burns Cottage Museum), where he lived until Easter 1766, when he was seven years old. William Burnes sold the house and took the tenancy of the 70-acre (280,000 m2) Mount Oliphant farm, southeast of Alloway. Here Burns grew up in poverty and hardship, and the severe manual labour of the farm left its traces in a premature stoop and a weakened constitution.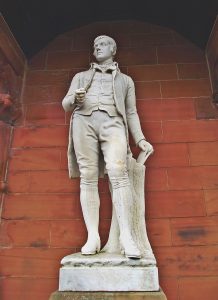 He had little regular schooling and got much of his education from his father, who taught his children reading, writing, arithmetic, geography, and history and also wrote for them A Manual of Christian Belief. He was also taught by John Murdoch (1747-1824), who opened an "adventure school" in Alloway in 1763 and taught Latin, French, and mathematics to both Robert and his brother Gilbert (1760-1827) from 1765 to 1768 until Murdoch left the parish. After a few years of home education, Burns was sent to Dalrymple Parish School in mid-1772 before returning at harvest time to full-time farm labouring until 1773, when he was sent to lodge with Murdoch for three weeks to study grammar, French, and Latin.
By the age of 15, Burns was the principal labourer at Mount Oliphant. During the harvest of 1774, he was assisted by Nelly Kilpatrick (1759-1820), who inspired his first attempt at poetry, "O, Once I Lov'd A Bonnie Lass". In 1775, he was sent to finish his education with a tutor at Kirkoswald, where he met Peggy Thompson (born 1762), to whom he wrote two songs, "Now Westlin' Winds" and "I Dream'd I Lay".
On 31 July 1786 John Wilson published the volume of works by Robert Burns, Poems, Chiefly in the Scottish dialect. Known as the Kilmarnock volume, it sold for 3 shillings and contained much of his best writing, including "The Twa Dogs" (which features Luath, his Border Collie), "Address to the Deil", "Halloween", "The Cotter's Saturday Night", "To a Mouse", "Epitaph for James Smith", and "To a Mountain Daisy", many of which had been written at Mossgiel farm. The success of the work was immediate, and soon he was known across the country.
On 4 September Thomas Blacklock wrote a letter expressing admiration for the poetry in the Kilmarnock volume, and suggesting an enlarged second edition. A copy of it was passed to Burns, who later recalled, "I had taken the last farewell of my few friends, my chest was on the road to Greenock; I had composed the last song I should ever measure in Scotland – 'The Gloomy night is gathering fast' – when a letter from Dr Blacklock to a friend of mine overthrew all my schemes, by opening new prospects to my poetic ambition. The Doctor belonged to a set of critics for whose applause I had not dared to hope. His opinion that I would meet with encouragement in Edinburgh for a second edition, fired me so much, that away I posted for that city, without a single acquaintance, or a single letter of introduction."
On 27 November 1786 Burns borrowed a pony and set out for Edinburgh. On 14 December William Creech issued subscription bills for the first Edinburgh edition of Poems, Chiefly in the Scottish dialect, which was published on 17 April 1787. Within a week of this event, Burns had sold his copyright to Creech for 100 guineas. For the edition, Creech commissioned Alexander Nasmyth to paint the oval bust-length portrait now in the Scottish National Portrait Gallery, which was engraved to provide a frontispiece for the book. Nasmyth had come to know Burns and his fresh and appealing image has become the basis for almost all subsequent representations of the poet. In Edinburgh, he was received as an equal by the city's men of letters—including Dugald Stewart, Robertson, Blair and others—and was a guest at aristocratic gatherings, where he bore himself with unaffected dignity. Here he encountered, and made a lasting impression on, the 16-year-old Walter Scott, who described him later with great admiration:
In Edinburgh, in early 1787, he met James Johnson, a struggling music engraver and music seller with a love of old Scots songs and a determination to preserve them. Burns shared this interest and became an enthusiastic contributor to The Scots Musical Museum. The first volume was published in 1787 and included three songs by Burns. He contributed 40 songs to volume two, and he ended up responsible for about a third of the 600 songs in the whole collection, as well as making a considerable editorial contribution. The final volume was published in 1803.
Burns also worked to collect and preserve Scottish folk songs, sometimes revising, expanding, and adapting them. One of the better known of these collections is The Merry Muses of Caledonia (the title is not Burns's), a collection of bawdy lyrics that were popular in the music halls of Scotland as late as the 20th century. At Dumfries, he wrote his world famous song "A Man's a Man for A' That", which was based on the writings in The Rights of Man by Thomas Paine, one of the chief political theoreticians of the American Revolution. Burns sent the poem anonymously in 1795 to the Glasgow Courier. He was also a radical for reform and wrote poems for democracy, such as – Parcel of Rogues to the Nation, The Slaves Lament and the Rights of Women.
Many of Burns's most famous poems are songs with the music based upon older traditional songs. For example, "Auld Lang Syne" is set to the traditional tune "Can Ye Labour Lea", "A Red, Red Rose" is set to the tune of "Major Graham" and "The Battle of Sherramuir" is set to the "Cameronian Rant".
On the morning of 21 July 1796, Burns died in Dumfries, at the age of 37. The funeral took place on Monday 25 July 1796, the day that his son Maxwell was born. He was at first buried in the far corner of St. Michael's Churchyard in Dumfries; a simple "slab of freestone" was erected as his gravestone by Jean Armour, which some felt insulting to his memory. His body was eventually moved to its final location in the same cemetery, the Burns Mausoleum, in September 1817. The body of his widow Jean Armour was buried with his in 1834.
Burns was posthumously given the freedom of the town of Dumfries. Hogg records that Burns was given the freedom of the Burgh of Dumfries on 4 June 1787, 9 years before his death, and was also made an Honorary Burgess of Dumfries.
Through his five surviving children (of 12 born), Burns has over 900 living descendants as of 2019.
Burns's style is marked by spontaneity, directness, and sincerity, and ranges from the tender intensity of some of his lyrics through the humour of "Tam o' Shanter" and the satire of "Holy Willie's Prayer" and "The Holy Fair".
Burns clubs have been founded worldwide. The first one, known as The Mother Club, was founded in Greenock in 1801 by merchants born in Ayrshire, some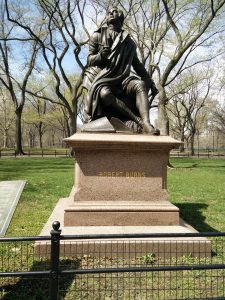 of whom had known Burns. The club set its original objectives as "To cherish the name of Robert Burns; to foster a love of his writings, and generally to encourage an interest in the Scottish language and literature." The club also continues to have local charitable work as a priority.
Burns's birthplace in Alloway is now a National Trust for Scotland property called the Robert Burns Birthplace Museum. It includes: the humble Burns Cottage where he was born and spent the first years of his life, a modern museum building which houses more than 5,000 Burns artefacts including his handwritten manuscripts, the historic Alloway Auld Kirk and Brig o Doon which feature in Burns's masterpiece 'Tam o Shanter', and the Burns Monument which was erected in Burns's honour and finished in 1823.
His house in Dumfries is operated as the Robert Burns House, and the Robert Burns Centre in Dumfries features more exhibits about his life and works. Ellisland Farm in Auldgirth, which he owned from 1788 to 1791, is maintained as a working farm with a museum and interpretation centre by the Friends of Ellisland Farm.
Burns Night Suppers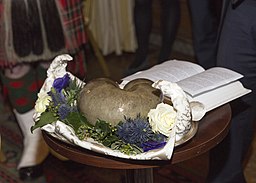 The format of Burns suppers has changed little since the first. The basic format starts with a general welcome and announcements, followed with the Selkirk Grace. After the grace comes the piping and cutting of the haggis, when Burns's famous "Address to a Haggis" is read and the haggis is cut open. The event usually allows for people to start eating just after the haggis is presented. At the end of the meal, a series of toasts, often including a 'Toast to the Lassies', and replies are made. This is when the toast to "the immortal memory", an overview of Burns's life and work, is given. The event usually concludes with the singing of "Auld Lang Syne".