Want to see Scotland from a different perspective? How about hiring a motor cruiser for a leisurely cruise across the country? Opened in 1822 the Caledonian Canal runs from Fort William on the west coast to Inverness on the east coast stretching for some 60 miles (97 km) from one side of Scotland to the other and a cruise along its length is a magnificent way to see some of the best of Scotland's scenery for the Highlands provide a backdrop of incredible beauty for your cruising holiday in Scotland.
Only about a third of the canal is man-made, the rest consists of four lochs – Loch Lochy, Loch Oich, Loch Ness and Loch Dochfour. These four lochs and the entire length of the canal lie within the Great Glen, a geological fault in the Earth's crust which pretty much cuts Scotland in half diagonally from south-west to north-east. The canal (which is actually a Scheduled Ancient Monument) was built as a way for small boats to get from the North Sea to the Atlantic Ocean without going all the way up and around the top of Scotland thus facilitating commerce between the two coasts.
Because it's an inshore waterway the canal never really gets rough – certainly not as rough as the sea can get – no matter what the weather and this makes it ideal for beginners who have never contemplated cruising on a motor boat before and fancy a chance to be the skipper of their own motor cruiser.
There are several companies which offer charter boats for canal boat hire on the Caledonian Canal and they all operate in a similar way. You can choose from one of the many four-berth cruisers all the way up to 10-berth boats with dual steering positions – one on the upper deck for sunny days and one in the cabin for those not-so-sunny days.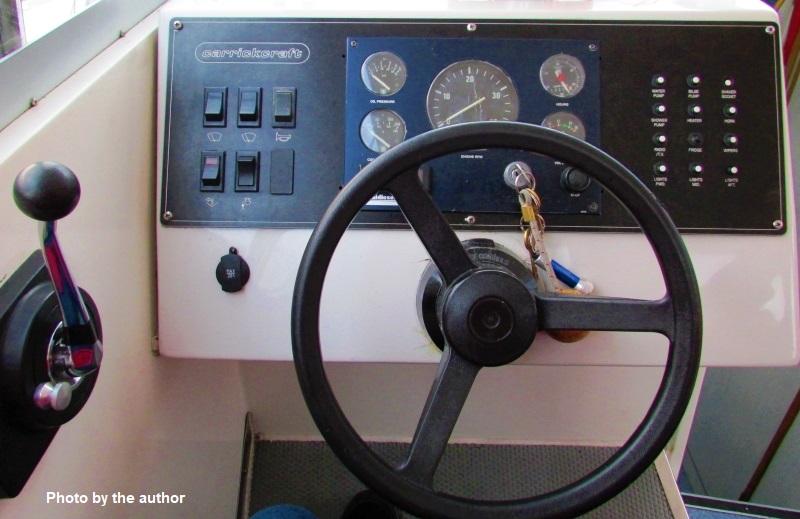 All the Caledonian canal boat charter companies offer training before they let you loose on the canal and I don't mean a quick 'this lever does this and this lever does that' run through. Everything on board will be explained to you, and your tutor will spend as much time as you feel is necessary for you to be comfortable with running the cruiser including lessons on berthing at a pontoon, how to refuel, how to top up your water supply, etc., and what to do in an emergency.
You will be supplied with charts of the canal, and their use will be explained to you but don't worry, if you can read a road map you will have no problem reading a chart. Once you are confident with everything then it's time to explore the canal!
There are 29 locks on the canal all of which are manned by a lock keeper so all you have to do to safely navigate a lock is follow their instructions. You are free to roam up and down the entire length of the canal from Banavie just outside Fort William to the Muirtown Basin Marina just outside Inverness. Chartered boats are not allowed beyond either of these limits.
Sights To See Along The Caledonian Canal
Once you start to explore the canal what can you expect to see? You can expect to see sights like ancient castles, quiet towns, cosy lochside pubs and restaurants and to hear the sound of bagpipes drifting over the water and, of course, you can expect to see some magnificent scenery along the way. Since you are in complete control of where and when you cruise on the canal you will have the opportunity to take a whisky distillery tour or a tour of an historic castle. You can indulge yourself in fishing, wildlife and bird-watching all from the comfort of your cruiser and there are many other activities available along the length of the canal and, if you choose to traverse Loch Ness, you never know what you might spot! It's entirely your choice as to what you do – you could even find a quiet spot to tie-up your cruiser and simply enjoy the peace and quiet for a few days.
Those stretches of the canal which connect the four lochs together can be quite narrow and during the height of the season it gets quite busy. You must be prepared to meet oncoming traffic which could be anything from a cruiser the same size as yours to surprisingly big cruise boats and barges carrying dozens of passengers to small sailing yachts and even canoes. The rule when passing oncoming traffic is 'keep to the right' ie: when passing oncoming traffic they must be on your left. These narrow stretches of canal widen into the broad, open waters of the lochs where navigation is easy.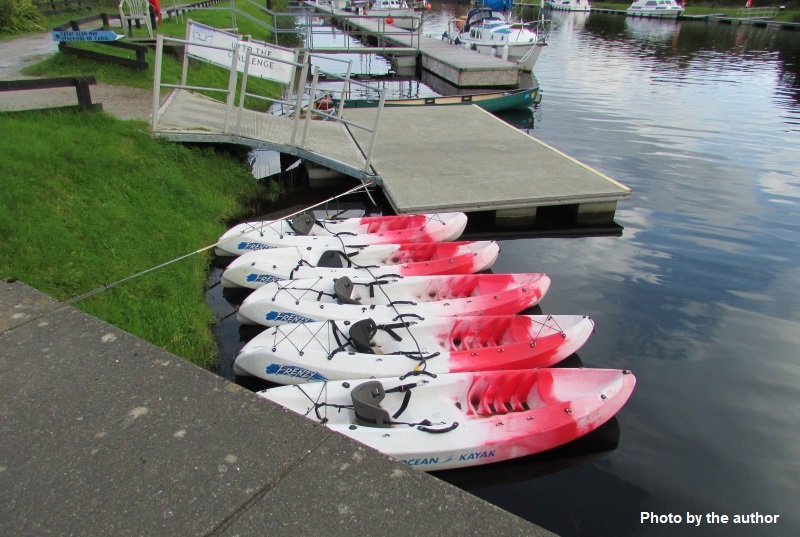 Boat decks and pontoon surfaces can be slippery when wet so suitable footwear must be worn. Highland lochs are cold, even during the height of summer, so try very hard not to fall overboard! Your cruiser will be equipped with a lifejacket for every person on board and it's a good idea to wear one whilst you are on deck. Be aware that lifejackets MUST be worn whilst negotiating locks – if anyone on deck isn't wearing a lifejacket then the boat won't be allowed into the lock. Your tutor will demonstrate how to properly wear a lifejacket.
Unfortunately, cruisers aren't really suitable for disabled persons or those with mobility problems. Internal stairways are steep and simply getting on and off a boat can be problematic. Young children should be supervised at all times and should definitely wear lifejackets whilst on deck – including getting on and off a boat.
There is a speed limit on the narrow sections of the canal of five knots for all craft. That's about a brisk walking pace. There is no speed limit on the open lochs but your cruiser won't go much faster than that anyway so take your time and enjoy the scenery.
There are plenty of berthing points along the canal especially close to the locks. Not all berthing points are equipped with fueling or watering points but the larger ones are. Shore power (240v) is also available at some berthing points.
You may need to run your cruiser's engine whilst berthed to make sure the batteries are topped up but please do not run engines after 9 pm or before 7 am and do keep noise to a minimum late in the evening – there are many residential properties close to the canal and, of course, there will be other boats berthed close to you so be a good neighbour and keep the noise to a minimum.
If you have ever wondered what it is like going through the locks on a boat, as the water goes down and the lock gates swing open, watch this speeded up video of navigating the locks.
If you're not impressed by the thought of captaining your own cruise boat then you could try one of the several cruise companies which offer cruises on larger boats on the canal. This is a great way to see the canal and experience the sights and sounds along the way without having to lift a finger! Whichever option you choose I'm sure you will have a great time motor cruising on the Caledonian Canal.