Situated off the west coast of Scotland, the Isle of Skye, largest of the inner Hebridean islands, is actually the easiest of Scotland's islands to reach. It has been connected to the mainland by the Skye Crossing (more often called the Skye Bridge) since 1995 and the crossing is now how most visitors to Eilean a' Cheò (the 'Misty Isle' – the island's gaelic name) arrive.
Everyone who visits Skye will leave with a lasting impression of the scenery. From the Cuillin mountains to the impressive coastal cliffs, from the Old Man of Storr to the Quiraing, from MacLeod's Tables to the Kilt Rock Waterfall every turn and twist of the road reveals new sights to marvel at. A journey from Rubha Hunish in the north to Point of Sleat in the south will delight and amaze any visitor.
The seas around Skye are just chock full of wildlife with whales, dolphins, sharks, seals, otters, sea eagles and more species of seabird than you can shake a stick at all easily seen from many of the vantage points offered by Skye's rocky shores and cliffs. If you want to get close up and personal with a whale shark or a killer whale then take one of the sea safaris available during the summer months.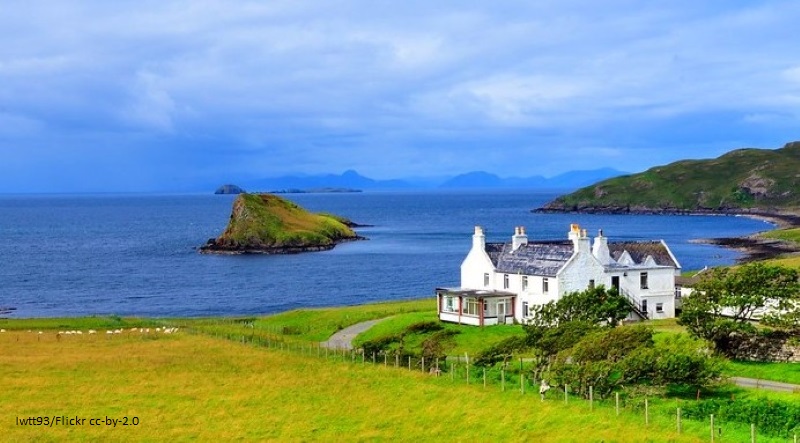 Being an island it isn't surprising that Skye has a wonderful selection of seafood prepared by master chefs in first-class hotels and restaurants and not only seafood but highland game reared in the shadow of the mountains, vegetables from local suppliers and a renowned single malt whisky from the Talisker distillery (In 2007 Talisker 18-year-old won 'Best Single Malt In The World' award) as well as a range of locally-brewed craft ales.
The island culture is strong on Skye especially that of the gael. You don't need to speak gaelic to visit Skye or even to live there but you will hear it often, especially in the smaller settlements and Sabhal Mòr Ostaig, Scotland's Gaelic College situated in the south of the island, is working to preserve and advance the gaelic language and heritage.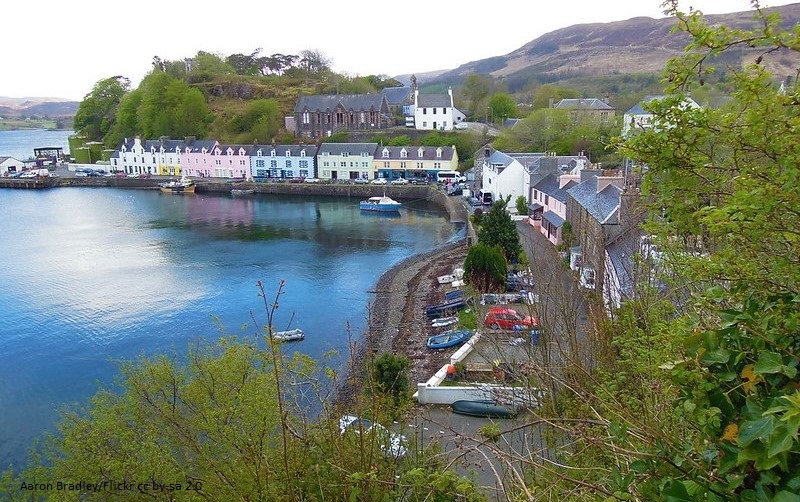 Portree, Skye's main town, is a busy place and a popular tourist destination. It is built around a natural harbour and the town's brightly painted houses rise steeply from the water's edge. At 639 square miles and with a population of just over 10,000 the Isle of Skye isn't exactly crowded. It is quite possible to take a solitary vacation or live a quiet and isolated lifestyle with as much or as little contact with others as you might wish. Do your own thing at your own pace.
For many people Skye is famous for its mountains – the Black Cuillins and the Red Cuillins. Spectacular to look at they certainly are but the Black Cuillins in particular are not to be taken lightly. There are few easy routes here and most are for experienced mountaineers only. Take photographs but don't take chances – if you dare to tread on these hills then tread warily!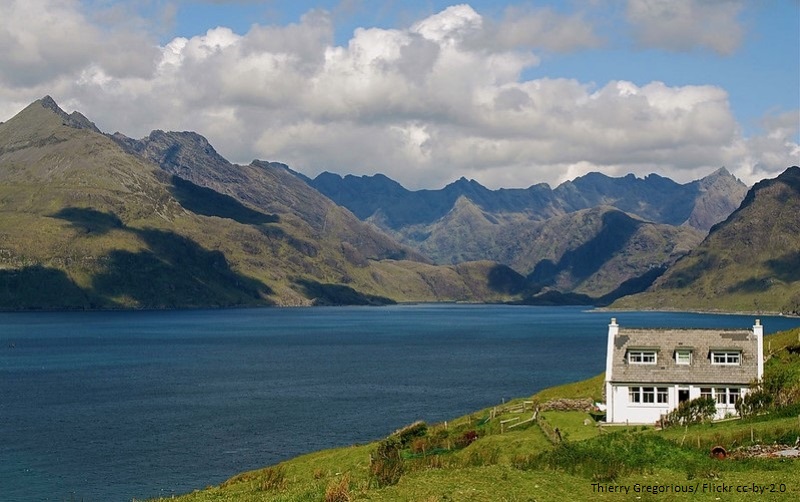 Despite Skye being on Scotland's west coast the weather isn't as bad as many people might think. It does rain sometimes, with the north of the island being a little drier than the south, but the sun also shines and due to the influence of the gulf stream winters aren't as harsh as they might otherwise be. Snow rarely lies at sea level and morning frosts are less likely than they are on the mainland. The highest temperature recorded on Skye was 26.7°C (80.1°F) and the lowest was -6.5°C (20.3°F).
Skye is a wonderful place to spend some vacation time and, with a varied selection of hotels, B&Bs, camping and caravan sites you're sure to find accommodation which suits both your tastes and your budget. Although most visitors now arrive by road it is still possible to reach Skye by ferry from either Mallaig (a big ferry) or Glenelg (a small ferry) and for tourists this is an alternative and rather more scenic way to reach it. Many visitors to Skye are enthralled by the island and many will return again and again. You never know, you might go for a week and stay for a year – or a lifetime!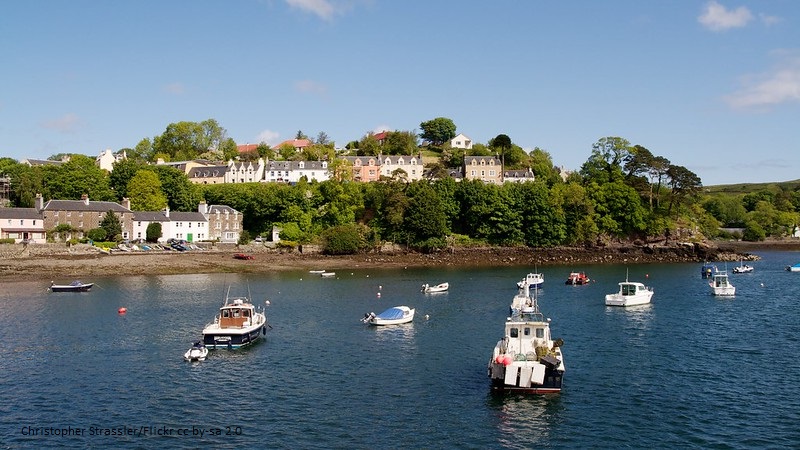 YouTube Video:

More information on Skye, including a map can be found here:
Skye Terrier Dogs
The Isle of Skye has its own breed of dog, the Skye Terrier dogs, which are said to be shy but very friendly. One famous example is Greyfriars Bobby, a Skye Terrier who stayed faithfully by his master's graveside in Edinburgh for 14 years until his own death. Queen Victoria also owned two of the Isle of Skye Terriers; Dandie and Islay.

Misty Island
With the Isle of Skye being nicknamed the "Misty Isle", Thomas The Tank Engine fans, may see this as the location of Misty Island, a mysterious island that can be seen from Brendam Docks. This island is always covered in mist and is rediscovered in "Misty Island Rescue", a full length cartoon in which Thomas is lost on Misty Island after being shipwrecked at sea. It also features an undersea tunnel, lost for many years and which becomes a means of getting trains to and from the mysterious island.
The Skye Boat Song
A famous song, called The Skye Boat Song, commemorates the flight of Bonnie Prince Charlie. You can hear that song here.